21 July 2020: Sunbeam Mini Race Week Day 1
Published 00:00 on 21 Jul 2020
Chittagong Race Report and results - Day 1.
The racing season finally got underway today with the first of the series of races for the Chittagong Cup.

A beautiful summer's morning greeted the 14 Sunbeams who decided to start the first of the season's trophy series following a delayed start.

PRO Peter Taylor set a line near Camber beacon with a short beat to a special mark near East Head.
With the last of the flood tide running and a pleasant 8-10 knots of wind, it paid to sail inshore and at the first mark V18 Polly led narrowly from V68 Sky and V26 Danny. This was followed by a short run to Astra, before which Sky and Danny overhauled Polly.

The next leg was a short beat to John Davis. The tide was neutral by now and V61 Betty gained with a slight wind shift which took her into third place at John Davis and V26 Danny overtook V68 Sky soon before they approached the mark.

After a short run to Thorney there followed a one-sided beat to Dunes. V41 Fleury came back into contention overtaking Polly.

With the tide beginning to ebb the long run from Dunes to Park meant that whilst V26 Danny sailed off into the distance, the following 4 sunbeams rounded Park close together. The final beat to Thorney saw more place swapping with V61 Betty rounding in second place closely followed by Fleury, Polly and Sky. The final run against the tide was the usual race to get out of the tide on the long leg to the finish.
Polly managed to overhaul Fleury and Betty and there was nothing between them at the finish!

Behind them V25 Query managed to hold off V36 Melody but unfortunately only discovered after the race that they had been OCS.

Special mention must be made of Jerry Saunders who helmed his first ever race and finished twelfth !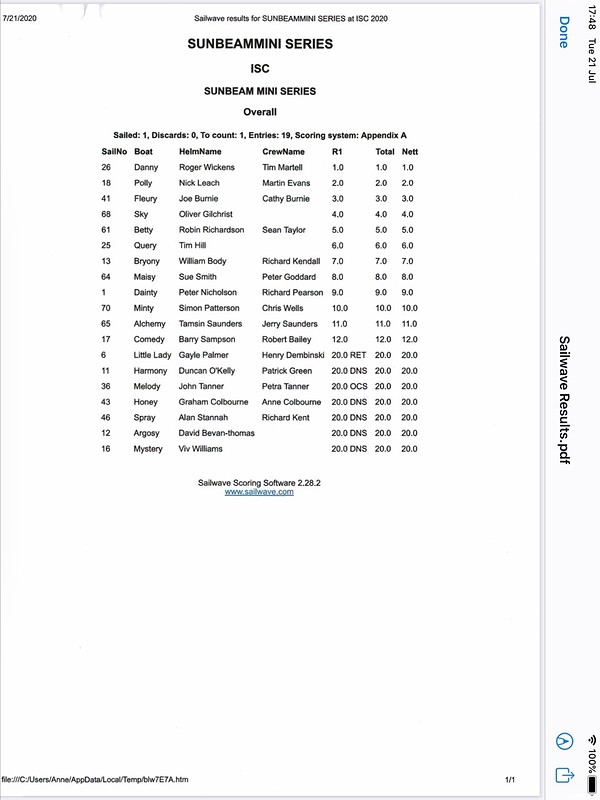 Unfortunately we are unable to fully enjoy the facilities at Itchenor SC. This is due to staff being furloughed until August, so until then food and beverage is only available on Friday, Saturday and Sunday.

However, please do bring picnics etc so we can chat after racing.


REMINDER

No racing this thursday evening because we are racing in the daytime!


Nick Leach
Class Captain
Last updated 16:24 on 5 August 2021